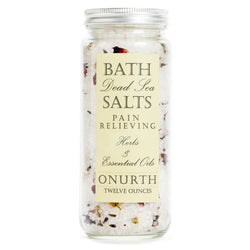 Pain Relieving Herbal Bath Dead Sea Salts Soak with Eucalyptus
Breathe a sigh of relief as the freeing powers of eucalyptus open congested airways and reduce inflammation in joints and swollen feet by resting your body in this warming soak to revive your natural strength.
Helps to bring comfort to those struggling with arthritic pain or a sore body after working out. Use during a cold to loosen congestion and encourage a healthy respiratory system.
Ingredients: Pure Dead Sea Crystals, Organic Herbs of Chamomile, Rose Buds and Lavender Flowers, Onurth's Proprietary Blend of Organic Eucalyptus Essential Oils.
Shelf Life: 12 Months