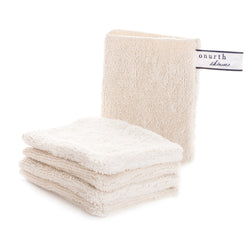 Onurth's Terry Cloth Facial Mitt is perfect for removing cleansers and masks. They are double sided terry cloth and fit perfectly over your hand for ease of use. They make a great travel companion so your sensitive complexion can be saved from harsh hotel washcloths and detergents. Made with a handy hang tag for easy drying, you'll love the convenience of these versatile facial mitts!
Ingredients: One Handmade 100% Cotton Terry Cloth.

Dimensions approximately 5 in. x 4 in.